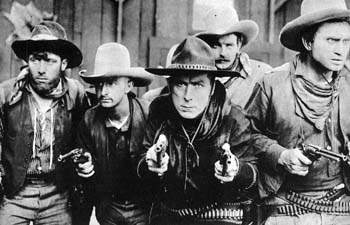 W.S. Hart in The Gun Fighter.
Frontiersman:
William S. Hart and Western Realism
What Thomas H. Ince lacked in authorial vision was more than compensated for by his supervisory capabilities. Creating the blueprint for what would later be known as the "studio-system," Inceís most significant contribution to the Western genre comes aptly enough as producer. It was within this capacity that he ushered onto the silent screen one of its most distinguished cowboys, William S. Hart. If not the most popular cowboy ever to grace the silent screen, Hart was undoubtedly the most authentic. In rejecting the wild theatrics of many of his contemporaries, Hart remained a frontiersman in the truest sense, operating outside the pale of contemporary Westerns and displaying a penchant for stark realism and harsh poetry.
Beginning work for Ince in 1914, Hart was an immediate success and shortly thereafter was directing his own two-reelers. Falling into line with the screen-mythology of Broncho Billy, he was invariably the badman reformed by love and Christian virtue. Films such as The Taking of Jim McLane (1915) and Keno Bates, Liar (1915) replayed this basic myth -- in a signature blend of Victorian sentimentality and rugged authenticity -- to great success. In 1916 Hart was working exclusively on feature productions, among the most memorable Hellís Hinges (1916), The Toll Gate (1920), and Traveliní On (1922).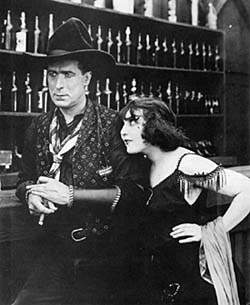 Louise Glaum lures W.S. Hart in
The Return of Draw Egan (1924)
A stubborn refusal to alter his format, despite public demand for more spectacular and showy Westerns, would increasingly push Hart to the fringes of popular taste. In 1926 he would release his last, and perhaps best Western, Tumbleweeds. Telling the story of the Cherokee strip land rush, the film was in essence about the closing of the West and the dying days of its cattlemen. Epic in scope, its prototypical storyline -- cattleman renounces nomadic life for settled existence -- and elegiac tone made it one of the last great silent Westerns, and arguably the most poignant.
page 5 of 8


---
---
Other Western articles in this issue: