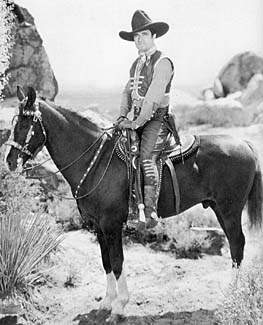 Publicity still of Tom Mix.
Preceding both Fairbanks and Hart -- and reaching his prime in their wake -- was Tom Mix. Both a Texas Ranger and rodeo championship winner before entering motion pictures, Mix was a natural cowboy. On screen, however, a breezy and clear-cut persona and an abundance of elaborate stunts detracted from the star's authenticity. Not that authenticity was ever a priority for Mix, serving as producer/director on many of his own films, he would work hard at devising ingenious, far-fetched scrapes and predicaments for his on-screen counterpart (Fenin and Everson 116). In his first six years in the industry, from 1911 until 1917, Mix shot well over 100 one- and two-reelers for Selig. Increased popularity brought him to the attention of Fox, whom he signed with in 1917. Until the end of his Fox contract in 1928, Mix and his trusty steed Tony enjoyed prestigious productions and ongoing appeal. Made at the height of his popularity, such films as The Daredevils (1919), Rough Riding Romance (1919), and The Lone Star Ranger (1923) exhibited the rollicking, good-natured adventure stories in which Mix excelled. Based on a Zane Gray story, Riders of the Purple Sage (1925) is one of Mix's most notable ventures, if somewhat atypical in its emphasis on violence.
Mix's buoyant showmanship attracted many imitators, among them Ken Maynard and Hoot Gibson, but none could match the star's presence or rival his takings at the box-office. The changeover to sound with Destry Rides Again (1932) was relatively easy for Mix; his charm and energy remained for the most part intact, despite his stilted delivery of lines. But Mix, attracted by the more lucrative offers of Sells Floto Circus, would retire from the screen in 1934, leaving the riding range free for a new breed of talking and singing cowboys.
page 6 of 8


---
---
Other Western articles in this issue: